Our First Project: Village Tent Schools
Basic education is a fundamental asset that helps with regional socioeconomic development. Early in our work in the Yangtze River headwaters, local community members and leaders requested Plateau Perspectives to support them in developing their own primary schools – initially in the form of tent schools, which could be moved as required to fit the needs of the Tibetan nomadic pastoral lifestyle.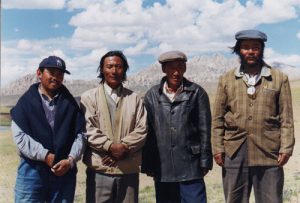 Early on in our engagement with herding communities in Zhiduo county, the need for education was considered a strong priority by local community members. Plateau Perspectives and the NGO Upper Yangtse Organization jointly encouraged and supported two communities, Muqu and Yaqu, to establish village schools. These were set up initially as 'tent schools', which were moved several times in their first years of existence as community members discussed and debated their needs and aspirations as well as opportunities and challenges. A few years later, the schools were settled into permanent sites, the tents replaced with buildings. It was a very exciting day when, around 10 years after their initial launch, we met a young man in Xining (the provincial capital) who had just arrived to study at university – one of the first graduates of the Muqu tent school, from so many years ago in the grasslands!
The village tent schools were initially run by the herding communities themselves, but later also with government support. For several years Plateau Perspectives also ran a fundraising project known as 'Yak to School' – through which funds were successfully raised to purchase yak that helped support the school through expansion of the school yak herd, which helped to provide for the needs of the children.