Citizen Science
The Mountains of Central Asia biodiversity hotspot are well recognized around the world, but still lack adequate conservation. Plateau Perspectives is partnering with Lapis Guides to develop a series of digital field guides to encourage greater engagement in conservation.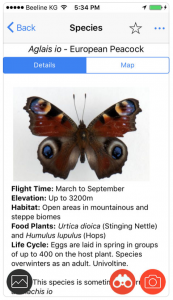 Field work for the first field guide was conducted in the Ala Archa National Park, situated in the western Tianshan Mountains. The field guide includes original photographs, general descriptions and distribution maps, and it also allows users to submit new observations as part of a citizen science initiative. Join us now in creating an online community actively engaged in learning more about and promoting our appreciation of Kyrgyzstan's extraordinary natural treasures. Special thanks to Amadeus DeKastle for concept design, field work, and overall development of this first app – and also to our colleagues at !nkubasia for turning concept into reality!
Amadeus DeKastle has authored the field report Butterflies of the Suusamyr Valley and co-authored the expedition report entitled Mountain ghosts: protecting snow leopards and other animals of the Tien Shan mountains of Kyrgyzstan.
A selection of the extraordinary butterflies observed in Ala Archa National Park are portrayed below:
Future apps should include citizen science-enabled field guides on the mammals and birds of Kyrgyzstan and also from the Tibetan Plateau region.
See the Lapis Guides website for more information.
Additionally, see…