Kegawa Herders Cooperative
Launched in 2010, Kegawa Herders Cooperative now has over 90 member households. As voluntary association of entrepreneurs, the coop encourages innovative thinking as it helps to create new business opportunities in high grassland regions of the Tibetan plateau.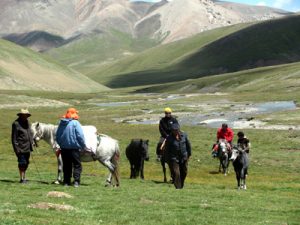 Following several years of close collaboration with Tibetan grassroots organizations in the Yangtze River headwaters, the need for effective community structures that could foster and enable the development of local enterprises became evident. This was further highlighted by successes observed in 2008 in South Gobi (Omnogov), Mongolia, where community groups in grassland areas had recently been organized and strengthened, with excellent socioeconomic effect as well as improved social cohesion and enhanced sense of cultural identity.
The Cooperative was established by herders in the Yushu area to produce and sell livestock products, to help provide employment, and to generate income for local community members in ecologically sound ways. It seeks to fill the notable gap between state level programs and individual (household) management of grassland resources – returning to more community-oriented governance mechanisms, yet still maintaining individual commitment and benefit as community members are both investors and company shareholders. With its officials elected and important topics discussed at annual general meetings, this model of resource governance and asset management is a truly bottom-up, collaborative approach to rural development. The members also have chosen to share coop dividends annually amongst themselves, proportional to each person's investment, but only after a first tranche was set aside for a social fund and another tranche used to reinvest in or strengthen the core fund.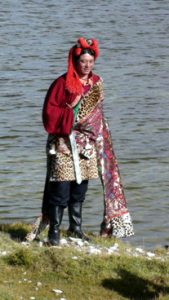 Following market research, the coop members have chosen to focus primarily on the development of 'ecological' livestock products (meaning that their pastoral practices should be demonstrably sustainable), on value-add products such as handicrafts, and on community-based ecotourism. A shop and a library have been established in the nearby county town, Zhiduo, to increase members' access to affordable assets and information. Special trainings also have been delivered to support the development of handicrafts, sewing, computer skills, business management, and trade languages.
In addition, grassland environmental monitoring has been instituted by the Kegawa Herders Cooperative to ensure that chosen approaches are ecologically sound. It is not only livestock grazing practices, however, that may impact grassland condition; and it is increasingly evident that climate change is affecting plant phenologies and glaciers – with flowers appearing earlier in the season and rising snowlines being noted by the community environmental monitors.
The cooperative also has other working groups that cover topics including wildlife monitoring, education/awareness, ecological husbandry (livestock management), handicrafts development, specialist trainings, and garbage collection.